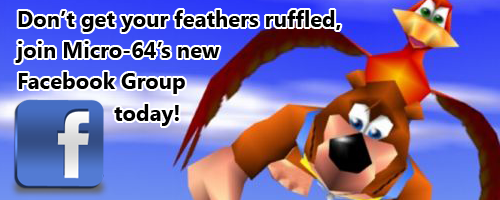 March 15 2017
If you've been waiting for the Ultra HDMI boards to come back in stock, then the wait is over. Marshall has re-stocked them and there's a new Version 1.06 with a couple improvements made. For more information on what the Ultra HDMI Mod is, check out this page on RetroActive.be. and this page for buying it. When these were first released they went out of stock pretty quickly so hopefully Marshall has made more this time.
January 9 2017
Happy New Year! To kick things off, we're doing something a little different. We've previously touched on the 64DD add-on console in the past, this time around we're finally reviewing a 64DD game, Doshin the Giant 1, a game that in one way or another, really does define the 64DD.
December 31 2016
Today is the 365th day of 2016. Better known as New Year's Eve. How do we celebrate New Year's Eve on Micro-64? By putting up a new article on the Transfer Pak. I went through every English N64 game with Transfer Pak support and documented what it does. It didn't take as long as it sounds though, there's only 6 friggin games. Happy 2017!
December 26 2016
One new page today, it was something that was quick and fun to write. Be sure to take a gander at our new page on Box Errors. And be sure to have yourself a Merry little Boxing Day.
December 25 2016
For Christmas the GoldenEye Vault has brought out another update for GoldenEye X. The patch for GoldenEye X Version 5E can now be downloaded from our patches section. There's a lot of neat stuff added but the highlight is definitely the two single player levels that are working. Once you start the game give Silo and Frigate a try.
December 24 2016
Holy crap it's Christmas! Yes Merry Christmas everyone and thank you so much for continuing to visit this website even if its seemed kinda dead. I'm still here don't worry and I'm going to continue keeping this website online. Now for today we have something very special for you. A new Nintendo 64 ROM is hitting the internet right now! Feast your eyes on the Dragon Sword 64 NTSC Prototype. This is a much different version of Dragon Sword 64 as you're about to see. This ROM release is courtesy of another good friend of mine, Rama!
Now for those who know Rama, he has a lot of cool N64 Prototypes. This particular ROM release was free however he wants to do a fundraiser for another N64 ROM. All the details are still being worked out but this is for a Nintendo 64 game that did not see a release anywhere in the world and there's no dump of it anywhere. A game like that was very expensive for him to purchase and he wants to recoup a portion of what he paid.
August 26 2015
A new feature has been added today, a review of Super Mario 64 DS. Check out our look at this often overlooked Nintendo DS classic here.
August 8 2015
We have another new review courtesy of our good friend Mike. It's for Mickey's Speedway USA, another excellent N64 title. Check out the review here.
June 21 2015
EVENT IS OVER. Looking for something to do today? Why not tune into Game Over Cancer? It's a bunch of cool people playing through some Nintendo 64 games which are being streamed live online. They're accepting donations for the Canadian Cancer Society and have all sorts of cool prizes available as well. Even if you can't donate that's okay, they'd still like more people to tune in. The official website is here and the live stream is here. And yes I'll make an update to Micro-64 sometime.
April 19 2015
Holy crap two updates in a row. Today we have a new review and it's for the platformer game Bomberman Hero. This review was written by a new guest reviewer so thanks very much for your effort Mike! Bomberman Hero actually isn't too bad of a game and it holds up well today. Read the full review here.
April 18 2015
Have you ever seen a bootleg Nintendo 64 game before? Sure we've all seen bootlegs, hacks, and pirates for the NES, SNES, and Mega Drive but not so much for the Nintendo 64. Today's new page covers one of them and it's one of the only ones I've ever seen. Take a look at it here.
March 29 2015
We have a new review for Majora's Mask today! It's for the original N64 version. We will cover the 3DS remake soon enough. You can check out the new review here.
February 7 2015
Are you looking for something new to play on your Everdrive 64? Then perhaps some Aleck 64 games are what you're after. These are some arcade games based on the Nintendo 64 hardware. Currently 6 of them are working. Take a look!
January 1 2015
Hello and welcome to the year 2015. We will be starting the year off with an addition to the database. We checked just about every NTSC-U and PAL N64 release to see what languages the games could be played in. We then put together two masterlists of them all. Click here to see the NTSC list and click here to see the PAL list. This page is a bit niche, but I'm sure there's someone out there looking to play some N64 in a language more familiar to them than English. That or perhaps there's someone out there learning a new language. Playing a video game in that language might be a way to make learning it more fun. As always if you spot any mistakes please let me know. It was a lot of games to check so something might've slipped by me. Otherwise let's all have an excellent year folks. Perhaps Marshall's N64 HDMI circuit will be ready soon?
November 28 2014
If you've been considering purchasing an Everdrive 64 or any other Everdrive product then today is the day to do it! Retrogate is having a 20% off sale and it won't last long. Check out their website here.
November 7 2014
We are once again back to updating the Everdrive page. There's just always so much to say about the device and lots of new stuff is being found or created all the time. The Everdrive 64 guide is now completely up to date, for now at least. Something a bit news worthy is that Everdrive 64 Version 2.0 has been discontinued and replaced with Everdrive 64 Version 2.5. They are still pretty well the same thing, just a different looking board and the Version 2.5 doesn't have an option to add a USB port. Most 2.0 owners never bothered with the USB as is so it's no major loss there. One minor mistake I made was originally saying in the guide that 2.0 would never be discontinued. I still don't think it's anything major though as the 2.0 and 2.5 are almost the same thing and no one is really going to be affected by this. Still though the guide has been corrected and I added a note saying that whenever I refer to Everdrive 2.0 it also means 2.5.
We do have one new but also Everdrive related thing to add to the website. If you own an Everdrive 64 and a Transfer Pak then you can dump your Gameboy and Gameboy Color games. It's pretty damn neat and the entire guide on how to do it is right here. Don't worry it's really easy to do. Have a happy November everyone. If I'm not mistaken this is usually the best month for new game releases. (January being the worst.)
October 15 2014
We are finally up to date with the Everdrive 64. Although I did originally update the page only a month ago, right after that the new Everdrive 3.0 and the new OS 2.05 were released so the page had to be updated again. I don't mind so much though. I really like all the new improvements Krikzz made this time and I enjoyed documenting them all. The updated page can be viewed here.
For anyone who hasn't heard yet, it's now possible to play the Japanese game Dezaemon 3D with its unreleased N64DD Expansion using your Everdrive 64 and no N64DD system is necessary. Sounds interesting right? Well you can check out the official page on it and get the download here.
October 8 2014
Hello friend, yes this is not the Everdrive update but trust me it's on the way. Yes I know it's the most viewed page on this website and I should keep it up to date, I know. Today is not a write-off though, we now have a Nintendo 64 Rarity Guide written by some great people from the Micro-64 Facebook group. What's that you haven't joined our Facebook group yet? Well what the hell are you waiting for? Also the N64 in TV & Movies page has received another minor update. Joining the list this time is the film Dude, Where's my Car? as well as an episode from the third season of the TV show Community. Both of these I watched and enjoyed which was really nice. Everdrive is truly next so don't worry. Everyone take care and have a fun and safe Thanksgiving weekend.
September 26 2014
Just letting everyone know that Everdrive 64 Version 3.0 has been released, as well as OS update 2.05. More information will be coming as I will get the Everdrive page completely up to date. I did update it just recently but I will go through it again.
August 31 2014
My good friend has written a nice little review of the OOT 3DS game. You can view said page right here.
August 20 2014
Hello everyone, I have a new page for you today and it's about WWF No Mercy Version 1.1. You can find it here. This is just the one new page I'm adding today, but I'll be doing a bit of minor work here or there both today and tomorrow. I am aware that GoldenEye was recently featured on The Tonight Show Starring Jimmy Fallon and I will get that added to the N64 in TV & Movies page very soon. I also got some e-mails from awesome people and need to do a bit of updating, but sadly I put it off too long. I'm sorry to those people! Lastly, Micro-64 received 5500 visitors on August 12. That's insane and significantly higher than what we usually get. I honestly have no idea where these people came from though, I assume some major website posted a link here. It will be a mystery. Now let's try to get at least one more update in before the end of August.
July 1 2014
Most sources online point to the N64 as a failure in several areas, we at Micro-64 understand this as well. In light of this, we are allowing another non-N64 console onto the site for an individual article, the Virtual Boy. This experimental and woefully unfinished console was ridiculed after launch and has remained an icon of failure in the Nintendo collective ever since. These waves of failure echo greatly within the N64 as well, which was released only a year later. You can find our review of the Virtual Boy here.
June 11 2014
I finally got around to doing a few updates I've been putting off. First, a few new patches were added. Those are Petrie's Challenge, Battletanx Trainer, and Banjo-Kazooie Blue moon Forest. The other update was to the Everdrive article. Added some information here and there, most noteworthy would be the bit about save types.
June 4 2014
The wonderful Team Carrot strikes again with their first new ROM release of 2014! This ROM is the PAL version of Indiana Jones & the Infernal Machine. Originally this game saw a very limited release in the NTSC format and the PAL release was completely cancelled. This all changes now though.
Title: Indiana Jones and the Infernal Machine - Unreleased PAL
Date: 04/06/2014
Company: LucasArts
Area: Europe
System: Nintendo 64
Size: 256 MBITs
Supplier: Gilgamesh
Click here to download.
May 21 2014
I was still in the mood for some Nintendo 64 homebrew so I made a page about another game called Shufflepuck 64. Click here to see it.
May 17 2014
Dexanoid R1 is a Nintendo 64 homebrew release that not many people seem to have heard of. We've written up a nice page about the game that will hopefully give it some attention it deserves. This game is definitely worth checking out and you can find all the information about it in today's new article. Click here to read all about it.
May 7 2014
Good news everyone! We have a new article that has been added to the roulette of features. Have you ever wanted to backup your N64 saves, share your custom tracks and characters with friends online or MOVE MOUNTAINS?? You can do all this and more with the DexDrive! Check out our article about this wonderful memory card adapter here

That's not all we have to announce today either, we have added a new page to the Database! This page categorizes the N64 library by what method it uses to save progress. There's a lot more than you might know. This page is very useful to anyone who has a DexDrive. You can find this page here
April 14 2014
Zelda fans, there's a somewhat new OOT hack for your Everdrive 64! I say somewhat new because it's been out for a month now, ooops. This new hack is known as "Petrie's Challenge" and it currently has 3 levels that are playable. You start out in the Forest Temple, then move to the Fire Temple, followed by the Water Temple. All temples have been completely changed. They play completely out of order to what you're used to and they're also much harder now. A video with the download link to the demo can be found here.
April 12 2014
Two new banners have been added to the rotation. Man, we sure do have a lot of them now. As usual I'm not telling you which two they are, but you'll see them on Micro-64 sooner or later. Or posibly even right now.
April 3rd 2014
Most people don't know it, but being the hero of time isn't all it's cracked up to be. Even the greatest heroes of Hyrule need something to keep their strength up. After many battles fought for this research, we here at Micro-64 have obtained ancient scrolls detailing a recipe to transform traditional Lon Lon Milk into an energy rich ice cream! Check out our article all about it here
March 19 2014
Converting Nintendo 64 ROMs to a different region can be a bit of a messy situation. Thank goodness we have S-Paladin. This tool is over 15 years old now and it finally has its own page on Micro-64. It should be a required download for PAL Everdrive users. Click here to see our page on the program.
March 16 2014
Super minor update today. Two patches have been added to the patches section. These include F-Zero X Fakestar Grand Prix, and a 007 The World is Not Enough patch. The first is yet another F-Zero X hack, but this one has tracks that were designed to be extremely difficult. It's brought to you by fzeroman. The second is a strange one. It allows you to watch 4 bots play against each other in splitscreen multiplayer in 007 The World is Not Enough. It's just a neat way of seeing how the AI works. I've also made an image of the awesomeness that is GoldenEye X. Click here to see it.
March 12 2014
A new version of GoldenEye X was released just a few hours ago. This project is brought you by the GoldenEye Vault. You can download the newest patch on their website or in our patches section. When you download it you'll find two different patches in the folder. For Everdrive users you'll want the patch with clouds and for emulators you'll want the cloudless patch. The reason for the two different patches is due to the clouds not really displaying properly in emulators. I really should do an article on this project one of these days.
We have also added another N64 reference in our N64 in TV article. This was in an episode of the show ER and it was spotted by kitsuneknight. Thanks very much for the submission! It's cool that the article got a few more 2014 additions, I figured I would have had them all by now. As always, if anyone spots anymore please let me know.
March 7 2014
I did a page ages ago on coloured N64 game cartridges. Just today I updated this page with new information from Acclaim documents that you've never heard before! Be sure to check it out.
March 3 2014
Consider this part 2 to my update on February 28. I have added even more patches to the patch page. This includes a patch for Rakugakids to make it work in NTSC, and a ton of F-Zero X patches. Any fan of F-Zero X should really consider picking up an Everdrive 64 as the F-Zero community has made tons of cool stuff for that game. I'm hoping to add even more F-Zero X stuff soon as well. Click here to see the patches page.
March 1 2014
Kicking off March, we have an entirely new kind of article to share with you. Did you know there were other consoles the N64 competed with? One of them was called the Sega Saturn. I had to look it up on Wikipedia, apparently it's real! In this article, we see which system is better, N64 or Saturn. Which has the best graphics, games or controllers? Find out in our latest feature.
February 28 2014
I've added 3 more patches to the patches page. Just in case you never saw this page before, it went up with the Everdrive article. The 3 patches that I've added are for Airboarder 64, Centre Court Tennis, and the Turok 2 Demo. For the Turok 2 Demo the patch restores the blood that Acclaim censored. I've tested it with the Talon, War Blade, Bow & Arrow, Pistol, Mag 60, Shotgun, and Shredder to find that enemies did indeed bleed. The other two games that I mentioned were released in Japan and the PAL region, but not the NTSC region. The patches that were added let you play the PAL versions on your NTSC Everdrive with no issues. It's not that the region lockout is hard to get around; it's that the different TV standards are a pain in the ass to work with. These patches allow you to play the game in the correct resolution at the correct speed and in colour. I'd like to get those other few PAL exclusives running in NTSC just like those 2 but it's not looking too easy to do right now. At least February is nearly over.
February 22 2014
About a year and a half ago I wrote a cool article on all the Nintendo 64 systems, games, and controllers that were in movies and TV shows. I've now gone back and updated that article with 2 new ones at the end. I also added a few more pictures for the Big Bang Theory part. Click here to see it. As always, let me know if you spot any more references.
February 17 2014
I went ahead and updated the Everdrive Wallpaper page. Just in case you didn't originally see this page, it was uploaded with the Everdrive 64 article and was put in the Database section. The original page had 37 wallpapers, and now it's up to 89. It's also now on 2 pages. Click here to view page 1. I'm pretty happy with how it turned out as I was able to find a crapload of more wallpapers. The only thing I don't like is the lack of any Beetle Adventure Racing wallpaper. There's two wallpapers for that game. I know they exist as I've definitely seen them before. I just can't for the life of me find them anywhere though. Oh well. Hope everyone is enjoying the Star Wars Proto release. If you haven't joined our Facebook Group then please do. It's a great place to keep up with Micro-64 as well as interact with oter N64 gamers.
February 13 2014
A while back I mentioned something really exciting coming. Well it's here! We now present you with another Nintendo 64 Prototype release! It's public and it's free to download. I am proud to say that it's an early version of Star Wars Shadows of the Empire. We have a nice page written up about it with the download right here. Please spread the word, N64 Proto releases don't happen very often and we'd love to see someone release one of their Protos too.
Also, we now have a facebook page for all Nintendo 64 fans. Click here to see it. It's to be a friendly community to discuss all things video game related, especially the N64. We'd love it if you joined.
February 4 2014
Time for another large article! This new one is actually the 3rd largest on this website with the Turok 2 Demo in first, and the Superman Prototype in second. Our newest page is called Everything and More about the Everdrive 64. It's the biggest resource there is for the Everdrive 64 on the internet. I tried to cover just about every topic possible for the device. I hope people find it helpful and that it might even make some people join the wonderful world of flashcarts!
Also, just a heads up for what's coming up in the future for Micro-64. Currently a couple friends of mine are working on another article. It's going to be real exciting when it gets released. There's also something truly special on the way from Micro-64. It's something new that you can't find anywhere else. Something that the N64 scene is going to love. Keep an eye out people! I'm hoping to have that ready for you in February, but if not then March.
January 16 2014
About 1 year ago a new Banjo-Kazooie level was released by some fans of the game. I'm not sure why I didn't write about it then, but I'm making up for it now. It's a great level and it really makes you wonder what else they might be able to do. This new page is live for you all to see right here.
December 24 2013
Another long article is being written at the moment. It's not ready yet, but I do have a Christmas poem for you instead. Let me take you back in time to Q4 2000. This was a time when the Nintendo 64 was dominating the video game holiday market. The PS2 system had lauched October 26th, and with Nintendo's next generation console not being ready yet, they decided to release their next big N64 adventure on the same day. That game was Zelda Majora's Mask. The popularity of the Zelda series, combined with a parts shortage limiting the number of PS2 systems on store shelves, caused Majora's Mask to sell more copies than any other PS2 game. Nintendo also released other major sellers around this time like Mickey's Speedway USA, Banjo-Tooie, and the Gameboy Pokemon Gold and Silver. Nintendo 64 systems were flying off store shelves. Sony was unable to compete with this and many developers who had bet on the PS2 reported losses. Competition from Sega also non-existant as their Dreamcast system had already began to falter.
To celebrate the success of the holiday season, Nintendo released this poem, which is known as The Slight Before Christmas -- Or, How Holiday 2000 Was Saved.
Twas the month before Christmas and all through the nation
Gamers gave up on that brand new Playstation;
The orders were stacked up at retail with care,
But the merchants all knew Sony wouldn't be there.
The players were nestled in front of their screens,
The pie-eyed young tots and the discouraged teens,
This promised to be one distraught holiday,
Without something new interactive to play.
When down at the mall there arose such a clatter
I leaped from my chair to see what was the matter.
And what to my wondering eyes should appear
But a sleigh full of thrills -- filled with Nintendo gear!
With a little old driver with presents in tow,
I knew in a moment -- my man, Mario!
A bundle of games he had draped on his back,
"If you want to save Christmas, just open this sack!"
With a wink of his eye and a pull at his `stache,
He answered my fears of a holiday crash,
One yellow and chubby, then a mouse, then an elf,
Then a bear and a bird -- and I cheered to myself.
"If your dream is adventure, then we're up to the task --
Our best Zelda ever, called Majora's Mask.
The country's best seller beginning day one,
Competitors just can't compete with this fun!"
"With Disney we're setting a blistering pace
As Mickey's Speedway USA leads the race.
Or how `bout the industry's first breakthrough brand?
Donkey Kong Country in the palm of your hand."
"And Banjo who soared with his partner Kazooie,
Take separate paths in a sequel called Tooie."
He had a kind face, and a look in his eyes
Then promised the ultimate retailer's prize.
"If Pokemon fun is your holiday choice,
Watch Pikachu leap in response to your voice.
And nothing before boasts performance this bold:
The hottest games ever -- Pokemon Silver and Gold!"
"Now Marrill, now Magmar, now Hoothoot and Staryu,
On Snubbull, on Snorlax, on Squirtle and Mewtwo!
To the top of the charts, to the top of the wall,
Now dash away, dash away, dash away all!"
Then he sprang to his sleigh, to his team gave a cheer,
"The real transition will happen next year!"
And I heard him exclaim as he drove out of sight,
"We said we'd save Christmas -- and Nintendo was right!"
Haha Nintendo sure was being cocky. Really though, seeing the old cartridge-based Nintendo 64 taking on next generation systems and win was amazing to see. It truly was a great time to be Nintendo 64 fan. On behalf of everyone here at micro-64 we wish you all a Merry Christmas! Updates are coming I promise.
October 23 2013
We tend to stick to N64 related material on this site, but did you know the Famicom turned 30 this year? Without our dear old NES, we might not have had an N64. In celebration of the big three-oh, we have a decidedly NES oriented article for you today. Don't worry, you still need your trusty N64... And a Gameshark Pro! Check out our latest feature, Neon64 on a Gameshark Pro, here.
September 18 2013
If you were ever a fan of the game Shadow Man, you might like this. The PC version of the game was just re-released for digital download yesterday by Gog. It runs on newer Operating Systems just fine and costs $5.99. Fans who purchase the game before the 24th will also get a digital copy of the Shadow Man comic book #1. Official page is here.
Oh and Micro-64 had five more banners added today.
September 17 2013
I think it's about time for a banner update. A total of six new banners have made their way into the rotation. Also a few minor corrections were made to some older ones. I'm not telling you which ones were added, just keep browsing the site and you'll find them.
August 31 2013
The weekend is here and I recently started a new job. I guess I'm going to start gearing up for another Prototype article. But which game to talk about one? More details on that later. Erm, today is also the 13th birthday of when Turok 3 shipped to retailers. Hoorah.
August 25 2013
Well I did the Turok 2 video again. I managed to show off the entire level and it's a minute longer than the last one. It has sound too. It can be viewed here. For some reason I was playing a bit worse than last time. I used up more ammo and lost more health. I must be losing the knack or something.
These ridiculously long rendering sessions are truly horrible. I ended up setting my computer up to upload the video to YouTube while I went to a party. I had a good time at said party, but on the way home I scared the crap out of myself and everyone in the car because there was a raccoon on the road and I had to stop for it. Damn thing just stopped in the middle of the road and starred back at my car. He probably had his life flash before his eyes or something. Glad I was able to stop in time and didn't squish him. Good to be back in one piece. Have a good day everyone.
August 24 2013
It's Saturday, hooray. I've been doing more YouTubing lately and have gotten another video up. This time it's the Turok 2 NFR. At 49 minutes it didn't take as long as Superman did to render and upload. I must've done something horribly wrong though, there's no sound! Damn it! The video can be viewed here for now, though I'm going to get it replaced with another one probably within the next 24 hours.
In other news, I've decided to expand Micro-64 in a unique way. We've always been your favorite Nintendo 64 fansite, but very soon we're going to be providing insurance too! UFO Abduction insurance to be exact. If you purchase our insurance and ever get abducted, we'll send a ship full of highly trained engineers and soldiers up to rescue you. Our rates start at just $8200/month! Rates do vary so please let us know your age, height, shoe size, blood type, and zodiac sign. Yes this offer is completely legitimate.
August 19 2013
Time for another update. I've made some minor edits to our Superman Beta article. Just a few tiny things I've noticed since I originally uploaded it. I've also made a video of Beta Superman in action. Yes, I finally got off my behind and filmed Beta Superman. It's just over an hour long and can be viewed here. That video took over 5 hours to render, 2 and a half hours to upload to Youtube, and than another half hour to process on Youtube. Man did that take a while!
August 17 2013
You know, I was just thinking the other day that I hadn't updated in a couple weeks. It appears to have been a bit longer than that. Well it was a nice break but I guess it's time to get back to work. I've started a large project recently. My goal is to give every N64 developer and publisher their own page. It's going to take a while, but I'll give you a preview for now. The first one I picked was of course Iguana Entertainment.
July 7 2013
Well hello new fans of Micro-64! In the past few days we've been getting lots and lots of visitors to Micro-64. The page that's drawing in all this attention appears to be our Turok 3 Prototype page. That's kinda funny because I made that page back in October 2012. Well, I'm always glad to have more people around. I figure it's time to do a small update to that page. I've also added it to the Feature Index as I didn't do that before. I will get around to writing a large page on that Prototype, I promise. In the mean time, why not check out my huge article on the Turok 2 NFR, or yesterday's large Superman Beta article.
July 6 2013
There was no update last week. We do have a new page today and it's massive! So massive it needs to be on two separate pages. Trust me people the wait was worth it. Today's feature is on the Superman Prototype. This was dumped back in March and I've wanted to do a feature on it every since I found out about it. Beta Superman is so much better than the retail version. I'm glad I got the chance to play it!
June 22 2013
A large variety of games have been reviewed over the course of Micro-64's first year. But can you believe we haven't had a single Mario game? I can't either! Today's update is for our review of Mario Party, the first one.
June 15 2013
It's been a slow week. I've added a couple Press Releases and that's about it. I'm hoping to get a feature or review out next week though.
June 8 2013
The results of the poll were to do an article on something beta/unreleased. Well here is that article! It's a bit short I know. There's an upcoming beta/unreleased article coming to Micro-64 and this is going to be a real exciting one.
Oh, and a while ago we mentioned that there was a project to get some beta versions of Conker's Bad Fur Day and Perfect Dark released. Well we are happy to announce that they have now been released. The ROMs can be found if you know where to look.
June 1 2013
Haha I had a feeling a lot of people just went straight for new pages and didn't pay attention much to the news updates. Hey nothing wrong with that. The update we'll be having in one week will have to do with something beta. It will be interesting for sure. As for today's update, there's a new page in the database. Micro-64 will now be archiving original Press Releases. The list is here. It's a small list for now, but it will grow.
May 25 2013
Good evening! Today I was trying to figure out what to add and well, I'm drawing a blank. I will be doing some very small additions and corrections to our current articles, but otherwise I don't have anything new to talk about. How about we do a poll?
Poll Removed, thanks for voting.
Yep, you guys can pick a future article. Voting ends sometime on June 1st. On June 1st we'll have some sort of new page and then the following week will be a new page based on the results of that poll. The results of the poll will also help us determine how many people actually read these updates. If you've got a few seconds why not vote?
Almost forgot, the "join our forum" banner that went above these updates is gone. I just got sick of looking at it. It will return eventually though so don't get excited!
May 18 2013
We really don't have that many reviews yet so it's time to add another one. So far the games we've talked about have gotten scores from average to near perfect. It's time to break this trend and review something awful. Today's review: Power Rangers Lightspeed Rescue. Big thanks to Dave for the review.
May 12 2013
Winter may be long gone, but there's one N64 game that can let you relive those memories even in the heat of summer. That game is Polaris SnoCross. Read our review here.
May 4 2013
Nothing much going on for Micro-64 today. We do have some good prototype news and bad prototype news though.
What's good is an unfinished build of Glover 2 just got released. There previously was a build of Glover 2 released in 2011, but this new one is further along in development. You can find the ROM online if you know where to look.
What's bad is the fan project URA Zelda has been cancelled. It seems like it was going through development hell behind the scenes. The website and Youtube channel are now gone.
April 28 2013
It happened, we actually went without an update. Let's just say moving sucks. We do have a new page today and it's on the differences between version 1.0 and 1.1 of Turok 2. You'll find that page here.
April 14 2013
What's that? You thought we weren't gonna have a weekend update? That just won't do at all! Here is our latest feature, The Top Ten Things the N64 Did Right.
April 13 2013
Oh crap it's Saturday already. I'm in the process of moving right now but we should get something out this very next Saturday. Yeah sorry people, nothing today.
April 6 2013
Good news everyone! The longest feature I've ever written is now here. It took months to complete and cost me my sanity. I hope you like it because I'll never be the same again... Ummm here it is, our newest feature on the Turok 2 Not For Resale Cartridge! The Turok 2 NFR cart is packed full of beta content and is easily the most interesting N64 NFR cart. If you enjoyed our previous NFR articles, than you'll also like this one.
In other news, I just paid for another year of Micro-64. That's right folks, we aren't going anywhere. Micro-64 was first created on April 9th 2012, but we didn't actually start until April 22nd. I'm not sure which date you'd count as the birthday. Who cares though, the important part is that we're here to stay!
March 30 2013
What an interesting time for Nintendo 64 beta versions! Martin over at NESWorld just released an early version of Superman. Yes, the very same Superman game that some people consider the worst game of all time. This version is buggy, but still better than the final version. You can get the rom here, though you will have to register on the NESWorld forums first. While you're there, say thanks to Martin. I'll definitely add "write an article on the Superman beta version" to my to-do list.
Also, some fine folks over at Assembler Games are holding a donation drive to release several beta builds of Rareware games. They've gotten a hold of 2 early builds of Conker's Bad Fur Day and 2 early builds of Perfect Dark. I'm quite surprised that these builds actually still exist. Rareware was always keen on making sure that none of their prototypes were leaked. If you'd like more information or are interested about the builds, go here.
March 23 2013
We were actually going to go without an update today, but I managed to get a small addition to the site last evening. The scans page has been updated with several more Nintendo Power Subscription Inserts. I've got almost all of them scanned at this point. We also have some Mario Party banners which have been added to our banner rotation. I realize this update isn't very exciting, but there's one page currently in the works that's sure to please many. It's already 3 times longer than our longest feature, and I'm still not done writing it. Keep an eye out for that in a future update. Otherwise have a good Saturday!
March 16 2013
We have a new feature today! It concerns the cult classic Conker's Bad Fur Day, a game not known for being particularly glitchy. Well no more, because we found one! Click here to read all about it.
March 9 2013
One new review today and it's for a game that unfortunately has never been popular. Today's review is for Robot: Rocket on Wheels. It's a fun little platformer that had all its attention taken by Rayman 2. Click here to read our review.
March 2 2013
I just realized these updates on the homepage were saying 2012 and not 2013. That's embarrassing. Umm, today's update is a How-To and it's on reflashing Gamesharks. Gamesharks are not the best in terms of reliability so this new page will show you how to fix them. That new page is here.
February 23 2013
Another update on a Saturday! Today's new article is a review written by our good friend jrsupermoore. It covers a sports game that's definitely better than you'd think. Said new page can be found by clicking here.
February 16 2013
Now today's update might sound a little strange, but once you see it, it won't be so bad. I made another list of every NTSC Nintendo 64 game that was released, but this time it's sorted by genre. I've heard people say that the Nintendo 64 has too many sports games and too few RPGs and fighting games. I figured it was time to see how many games there are in each genre, and find out if those statements have any truth to them. This new page is here. I may do another list, but for PAL releases.
February 9 2013
Surprise, I guess I had a little inspiration for now. One new feature has been added today, and it covers something that I find to be rather sad. Click here to read it.
February 2 2013
Hello everyone and welcome to 2013. Errr, well crap we're already at the second month now. Once we get some inspiration going, we'll start getting some regular updates out. For today, we have a new feature covering a pair of interesting memory cards. If you'd like to see the article, you can click here or here. but not here.
December 25 2012
Good news everyone, it's Christmas! I hope everyone spent lots of time with their family and got some nice gifts. Micro-64 has one new review and it's written by our good friend jrsupermoore. The new review can be found here.
December 18 2012
Another update, great! After spending a few hours scanning and rotating some images, I'm happy to say that the scans page has been updated with 15 or so new pieces of paper. Go here to see them. Remember, the scans are free to be used by anyone.
December 15 2012
Yikes! Has it really been over a month since our last update?! You must have thought we weren't gonna remember to post anything. Well, you're half right. We do have one new feature, finally. You can find it here, it concerns the top ten worst letdowns and disappointments in N64 history, ranging from hardware to games.
November 8 2012
One new page has been added today, but it's just a small one. It's a little review on the N64 Survival Guide.
October 31 2012 Happy Halloween! Although it's going to be a busy evening for a lot of people, we do have an article to read while you get diabetes and spook people. It's about Overclocking an N64.
October 27 2012
Nothing new on Micro-64 today, but we've got a very interesting thread on the forums. I found some old descriptions from cancelled and beta N64 games. Read about them here. Feel free to comment too. Also, there should be a new feature out on Halloween.
October 24 2012
Nowadays, you'll find Crystal Dynamics putting out the same Tomb Raider game every year. But before that, they had some variety. One of their most unique games was the Gex series. We've reviewed the second Gex game, which you'll find here. Also, if you haven't joined the forums yet, then please do. We need more N64 fans!
October 21 2012
The Micro-64 staff have decided that there have been enough daily visitors to open the Micro-64 Forums. We only just started it though, so please excuse the stock template and icons. We look forward to supporting a great N64 community. Don't be a stranger, everyone is welcome to sign up!
October 20 2012
Ever wondered where the First Person Shooter of today started? Then feel free to view our latest feature, Genre Roundup: First Person Shooters, where we cover many of the good, bad and underrated First Person Shooters on the N64.
October 16 2012
If you're visiting Micro-64 for the first time, then I'd like to say welcome! Yeah, Micro-64 has had a lot of traffic since yesterday evening. It's all for a good reason of course. Yesterday evening, history was made. We at Micro-64 have released a prototype version of Turok 3 that is free for anyone to download. More information on that here. To spend so much money on a Prototype game, and then turn around and release it for free, feels awesome! I'm proud to put the ROM out there and I would happily do it again if I ever got the chance. Thanks again for visiting! Also, if you missed yesterday's review, then please give it a read!
October 15 2012
And you thought there weren't going to be any October updates, heheh. There's one new review added. It's on the most talked about FPS for the N64. That is until Goldeneye stole the spotlight. You'll find that review here.
September 30 2012
This took a bit longer to write then I had originally intended. Finally the Jet Force Gemini Not For Resale cart article is done! I've been playing that game non-stop lately. I can't wait to take a break.
September 21 2012
Good evening! This will just be a tiny update here. As you may have noticed there's a poll on the right side of this page now. It's just something the other guy was wondering. Don't worry, it won't be there forever. On a different note, out of all the reviews, features, and database pages on Micro-64, there has been one article that has gotten a lot of attention. That was the page on the Donkey Kong 64 Not For Resale cart. If you enjoyed that article, and you enjoy reading about beta content in N64 video games, then get excited because there's another feature coming that you're going to love.
September 19 2012
I think we're long overdue for some more banners. Four new ones have been added, based on the following games:
Banjo-Kazooie
Banjo-Tooie
Mario Kart 64
Wave Race 64
September 16 2012
Summer may be over, but that shouldn't stop anyone from enjoying some fun in the sun, even as Autumn rolls around. Our latest review, Wave Race 64, covers a game that is sure to keep the spirit of Summer alive.
September 9 2012
To be 100% honest, I've been kinda running out of ideas for creative articles. Reviews are always good to do, but features are more fun to write. Although this new feature is a little short, I think you'll still find it interesting. You'll find it here. Now to go back to the drawing board...
August 24 2012
A real milestone has been achieved today, the first version of The Master List has been added to Micro-64!
August 20 2012
Today is an interesting day in N64 history. Ten years ago on this very day, the Nintendo 64 version of Tony Hawk's Pro Skater 3 was released. This was the last Nintendo 64 game to ever be released, and it was the only game with a 2002 release date. To think, N64 games are now 10 years and older now. There were only 12 N64 games released in 2001. The second last game to be released on the N64, NFL Blitz Special Edition, saw a release in November 2001. It was a big surprise for everyone that one more game would end up being released 10 months later. Tony Hawk's Pro Skater 3 was an excellent game to be the final game and I'm glad it was released. So, Happy 10th to this game!
August 17 2012
A new review has been added, it concerns a game most people have probably never heard of before.
August 14 2012
What's that you say? We haven't updated in how long?! Right, well I've been quite a bit busy lately and so has the other guy. But hey I finally put something together. I made a page listing some times that the N64 was seen in movies and TV. I might have missed some small appearances, but I think I got all the major ones. You'll find that page here
July 26 2012
There's one new page which talks about the changes made to Blues Brothers 2000 during developement. You'll find that page here.
July 21 2012
Some more carts have been added to the Colored Carts page, in the Database section.
July 17 2012
Deep in the hundred acre wood, there once was a game nobody knew about, Tigger's Honey Hunt, which is now in the review section.
July 15 2012
One new page has been added. It's a page on Coloured Cartridges.
July 13 2012
Yay a new review! The game is Blues Brothers 2000. You'll find that review right here.
July 5 2012
Two minor updates today. I added 3 more games to the Sealed Game Contents page. They are Blues Brothers, Star Wars Battle For Naboo, and Command & Conquer. I also added one more registration card to the scans page. So, What game is for? I bet you want to know. I'll never tell you. Oh man you really must be wondering. You'll never guess either.
It's Carmageddon 64.
June 30 2012
I've added a few more scans to the paperwork page. Here's what got added:
the Map for Shadowman, with a bit of a walkthrough on the back. Really this map was just an advertisement for the strategy guide.
A Titus Interact flyer. You can see all the umm, great games Titus was putting out.
A James Bond movie flyer. This was originally packaged with 007 The World is Not Enough. Hm, why didn't Goldeneye have something like this?
A Nintendo Power insert. I called it Power Up as that's what it says on it. It's for many games, not just a specific title.
And some registration cards for Aero Gauge, Blues Brothers 2000, Shadowman, and Star Wars Episode 1: Battle for Naboo.
I get a bit excited when I find cool N64 paperwork. I'll update the page again when I find more.
June 29 2012
There's a new review! I won't tell you what game though. You'll have to click here.
June 26 2012
The lovable time sink of a game, Doubutsu No Mori, also known as Animal Crossing, has been added to the review section.
June 24 2012
We are now keeping track of sealed game contents. That list is here. If you've opened any sealed games lately, please contribute. We'll credit you and link to your unboxing video if you have one.
June 19 2012
A new game has been added to the review section, Bust-A-Move 2: Arcade Edition.
June 17 2012
For the time being, I've finished updating the paperwork page. It's a decent sized list going so far. I'll definitely add more to it whenever I get more paperwork.
June 16 2012
During the past few days I went through my N64 games looking for any paperwork I could find. I've scanned it all and have been slowly adding it to this page here. I still have a few more scans to add.
June 12 2012
A new review has been added for Conker's Bad Fur Day, which can be found here.
June 7 2012
We gotta be faster with the updates! There's one new page right here.
May 26 2012
Haven't updated in a while! Don't worry though there's a new review here.
May 12 2012
A new feature has been added for the Donkey Kong 64 Not For Resale cartridge.
May 5 2012
The Database page is now working with 2 main pages added to it. Have a look!
May 4 2012
It's clear the N64 isn't perfect, but some take it a bit too far. Our newest article is an answer to anyone who may not be a fan of the N64. You'll find it here.
April 29 2012
You'll find 3 additional features. The Gamecube thumbstick made for the N64 has been floating around for a while now but is it really worth you're money? Be sure to check out the review and install guide. There was also a page on Player's Choice games we forgot to mention yesterday. You'll find it here.
April 27 2012
A new feature has been added. Be sure to check out the N64 Buyer's Guide for Hardware.
April 23 2012
The review pages and feature pages should now be up and working. Two articles have been uploaded for each.
April 13 2012
First update on the homepage. Welcome friends, this is Micro-64! We are a fansite dedicated to our favorite game console, the N64. As you can see this website is a constructionzone right now. Trust me, we're working on it. Hey for now, leave a message in the chatbox and be sure to check us out in the future. Enjoy your Friday the 13th!