Let me take you back in time for a moment. It's quarter 4 of 2000 and publishers are racing to get their games out the door in time for Christmas. Nintendo had published two of its biggest games, Zelda Majora's Mask in October, and Banjo-Tooie in November. Both titles are immediately met with praise and strong sales. Many third party developers such as LucasArts, Midway, Titus and Ubisoft also release 2 or more games each. With plenty of quality N64 releases hitting the market, and a shortage of parts severely limiting the number of Playstation 2 consoles on store shelves, this was to be a hugely profitable Q4 and Christmas for the Nintendo 64.
Unfortunately, things did not turn out so well for one third party developer. Vicarious Visions had previously shown off two of their upcoming games at E3 2000. Polaris SnoCross and Sea-Doo HydroCross were their two projects. Polaris SnoCross was a snowmobiling racing game and Sea-Doo HydroCross was, you guessed it, a sea-doo racing game. Polaris SnoCross was said to be 80% complete at the time, with Sea-Doo HydroCross not far behind. Both were to be published by Vatical Entertainment later that year.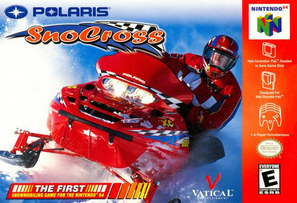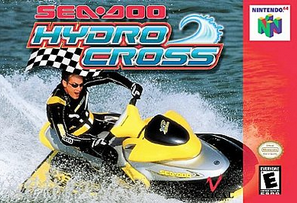 The August 2000 issue of Nintendo Power (#135) gave a preview for Polaris SnoCross and there was even a contest where you could win a copy. The magazine also confirmed that both Cross games would see release in Fall 2000, which later turned out to be September 2000. The following September Issue of Nintendo Power (#136) had a review for Polaris SnoCross and a preview of Sea-Doo HydroCross. Sadly, the two games did not meet their deadline of a September release. In an interview with Vatical, IGN confirmed that the two games had been delayed. They gave two new release dates, Polaris SnoCross released on October 24th, and Sea-Doo HydroCross would hit store shelves on November 21st. Time continued to pass as both games missed their release dates. Gamers were eager to get their hands on these games to the point where Polaris SnoCross made the most wanted list in the November 2000 issue (#138) of Nintendo Power. It was finally in December of 2000 that something happened. After many delays, Polaris SnoCross was finally released on December 27th 2000, completely missing its chance to cash in on the holiday season. The December issue of Nintendo Power (#139) also published a review for Sea-Doo HydroCross.
2001 came upon us and we were still waiting on Sea-Doo HydroCross. It was in February 2001 that IGN had another interview with Vatical and confirmed that Sea-Doo HydroCross was being tested by Nintendo, and had been delayed till Spring. Spring 2001 came and went. HydroCross had once again missed its release date and this was the last time we'd hear about it. This game never saw the light of day.
Reasons as to why the game never got released are difficult to come up with. It definitely was not due to the game being unfinished. This game was complete enough to be reviewed by Nintendo Power, to be rated by the ESRB and have its own box art and UPC, and was in the process of being approved by Nintendo as of February 2001. The possibility of Nintendo not liking what they saw when approving it also seems incredibly unlikely. Although the Nintendo 64 version never saw the light of day, the PS1 version of Sea-Doo HydroCross did get released in the Summer of 2001. This was at a time when the PS1 was old news and lots of Sony gamers had already moved onto the PS2. Strangely, this PS1 version was the last game published by Vatical as they seem to have disappeared shortly after.
It's possible that Vatical deemed it to be unprofitable to release HydroCross on the N64 and chose the PS1 instead, but I think it would've been more profitable on the Nintendo 64. The PS2 system was already out and the PS1 was an old system. The PS2 was backwards compatible, but I'm sure people would rather spend their money on something that only their shiny new PS2 play. The N64 was still Nintendo's home console in 2001, and Nintendo would not release the GameCube until November of that year. Given that there was a low number of N64 games released in 2001, Sea-Doo HydroCross would've had little to compete with and would've been released on a present console instead of just an old one. The best reason for this game going unreleased that I can come up with is that they simply went out of business before they could release it. The PS1 HydroCross was the last game Vatical released, so it's possible they went under before it could make it out the doors. This explanation does raise a few small questions though. The Nintendo 64 release was supposed to come out in Spring, it should've made it out the door before the PS1 version. That is, in less it was delayed yet again. Even if Vatical's going out of business was a factor, the developer Vicarious Visions could've looked for a new publisher.
To my knowledge, a Nintendo 64 prototype copy of Sea-Doo HydroCross has not been found. That's a shame because if there's one out there, it's more than likely a 100% finished version. I've made efforts to contact some of the developers to find out more information about this game but I've been unsuccessful. In less a Prototype copy is found, this will be nothing but a sad ending for Sea-Doo HydroCross. I'm thankful for the release of Polaris SnoCross, but it does seem sad that I'll never get to play its brother game.
Sea-Doo HydroCross Product Information:
ESRB Rating: E
# of Players: 1-4
UPC: 681313081612
Strap on that life vest and put your finger on the throttle...it's time for the most intense, in-your-face, super-realistic Jet Ski action that gaming has ever seen. The cast of eight selectable characters in the game adds personality, while the choice of eight different SeaDoo watercraft provides all of the excitement you'll be able to handle. Each PWC has tons of tricks and unique abilities, so choose your racer wisely. There are also eight (is there a theme developing here?) creative, unusual courses you can pick from, including several real-life cities, the Antarctic, and even the Bermuda Triangle! The dozens of interactive course elements are flexible; you can change the course's configurations, even whlie the race is in progress! If shortcuts and hidden areas get your motor running, you'll find plenty of those in SEADOO HYDROCROSS 2001. The audio and animations are top-notch, the soundtrack rocks, and the play is both smooth and intuitive. All of the excitement of a real Hydrocross, and you don't even have to get wet.
Below are a few screenshots from May 2000:
And here are several more from September 2000:
E3 Pictures
Scans
Here's a pair of scans from the mentioned Nintendo Power articles:
Sea-Doo HydroCross Preview from issue 136
Sea-Doo HydroCross Review from issue 139
Written by Kevin Ames
Sources: Nintendo Power issues 135-139 & IGN64
February 9 2013