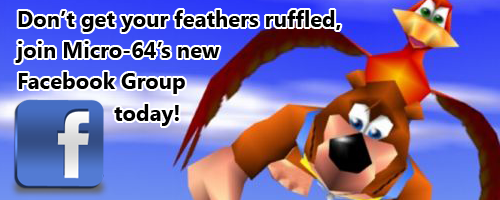 March 15 2017
If you've been waiting for the Ultra HDMI boards to come back in stock, then the wait is over. Marshall has re-stocked them and there's a new Version 1.06 with a couple improvements made. For more information on what the Ultra HDMI Mod is, check out this page on RetroActive.be. and this page for buying it. When these were first released they went out of stock pretty quickly so hopefully Marshall has made more this time.
January 9 2017
Happy New Year! To kick things off, we're doing something a little different. We've previously touched on the 64DD add-on console in the past, this time around we're finally reviewing a 64DD game, Doshin the Giant 1, a game that in one way or another, really does define the 64DD.
December 31 2016
Today is the 365th day of 2016. Better known as New Year's Eve. How do we celebrate New Year's Eve on Micro-64? By putting up a new article on the Transfer Pak. I went through every English N64 game with Transfer Pak support and documented what it does. It didn't take as long as it sounds though, there's only 6 friggin games. Happy 2017!
December 26 2016
One new page today, it was something that was quick and fun to write. Be sure to take a gander at our new page on Box Errors. And be sure to have yourself a Merry little Boxing Day.
December 25 2016
For Christmas the GoldenEye Vault has brought out another update for GoldenEye X. The patch for GoldenEye X Version 5E can now be downloaded from our patches section. There's a lot of neat stuff added but the highlight is definitely the two single player levels that are working. Once you start the game give Silo and Frigate a try.
December 24 2016
Holy crap it's Christmas! Yes Merry Christmas everyone and thank you so much for continuing to visit this website even if its seemed kinda dead. I'm still here don't worry and I'm going to continue keeping this website online. Now for today we have something very special for you. A new Nintendo 64 ROM is hitting the internet right now! Feast your eyes on the Dragon Sword 64 NTSC Prototype. This is a much different version of Dragon Sword 64 as you're about to see. This ROM release is courtesy of another good friend of mine, Rama!
Now for those who know Rama, he has a lot of cool N64 Prototypes. This particular ROM release was free however he wants to do a fundraiser for another N64 ROM. All the details are still being worked out but this is for a Nintendo 64 game that did not see a release anywhere in the world and there's no dump of it anywhere. A game like that was very expensive for him to purchase and he wants to recoup a portion of what he paid.
August 26 2015
A new feature has been added today, a review of Super Mario 64 DS. Check out our look at this often overlooked Nintendo DS classic here.
August 8 2015
We have another new review courtesy of our good friend Mike. It's for Mickey's Speedway USA, another excellent N64 title. Check out the review here.
June 21 2015
EVENT IS OVER. Looking for something to do today? Why not tune into Game Over Cancer? It's a bunch of cool people playing through some Nintendo 64 games which are being streamed live online. They're accepting donations for the Canadian Cancer Society and have all sorts of cool prizes available as well. Even if you can't donate that's okay, they'd still like more people to tune in. The official website is here and the live stream is here. And yes I'll make an update to Micro-64 sometime.
April 19 2015
Holy crap two updates in a row. Today we have a new review and it's for the platformer game Bomberman Hero. This review was written by a new guest reviewer so thanks very much for your effort Mike! Bomberman Hero actually isn't too bad of a game and it holds up well today. Read the full review here.
April 18 2015
Have you ever seen a bootleg Nintendo 64 game before? Sure we've all seen bootlegs, hacks, and pirates for the NES, SNES, and Mega Drive but not so much for the Nintendo 64. Today's new page covers one of them and it's one of the only ones I've ever seen. Take a look at it here.
March 29 2015
We have a new review for Majora's Mask today! It's for the original N64 version. We will cover the 3DS remake soon enough. You can check out the new review here.
Old updates can be found here.