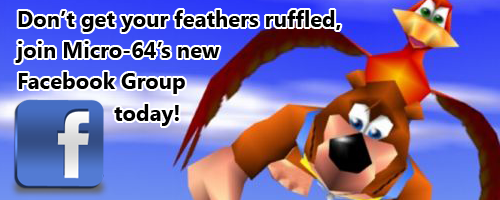 August 26 2015
A new feature has been added today, a review of Super Mario 64 DS. Check out our look at this often overlooked Nintendo DS classic here.
August 8 2015
We have another new review courtesy of our good friend Mike. It's for Mickey's Speedway USA, another excellent N64 title. Check out the review here.
June 21 2015
EVENT IS OVER. Looking for something to do today? Why not tune into Game Over Cancer? It's a bunch of cool people playing through some Nintendo 64 games which are being streamed live online. They're accepting donations for the Canadian Cancer Society and have all sorts of cool prizes available as well. Even if you can't donate that's okay, they'd still like more people to tune in. The official website is here and the live stream is here. And yes I'll make an update to Micro-64 sometime.
April 19 2015
Holy crap two updates in a row. Today we have a new review and it's for the platformer game Bomberman Hero. This review was written by a new guest reviewer so thanks very much for your effort Mike! Bomberman Hero actually isn't too bad of a game and it holds up well today. Read the full review here.
April 18 2015
Have you ever seen a bootleg Nintendo 64 game before? Sure we've all seen bootlegs, hacks, and pirates for the NES, SNES, and Mega Drive but not so much for the Nintendo 64. Today's new page covers one of them and it's one of the only ones I've ever seen. Take a look at it here.
March 29 2015
We have a new review for Majora's Mask today! It's for the original N64 version. We will cover the 3DS remake soon enough. You can check out the new review here.
February 7 2015
Are you looking for something new to play on your Everdrive 64? Then perhaps some Aleck 64 games are what you're after. These are some arcade games based on the Nintendo 64 hardware. Currently 6 of them are working. Take a look!
January 1 2015
Hello and welcome to the year 2015. We will be starting the year off with an addition to the database. We checked just about every NTSC-U and PAL N64 release to see what languages the games could be played in. We then put together two masterlists of them all. Click here to see the NTSC list and click here to see the PAL list. This page is a bit niche, but I'm sure there's someone out there looking to play some N64 in a language more familiar to them than English. That or perhaps there's someone out there learning a new language. Playing a video game in that language might be a way to make learning it more fun. As always if you spot any mistakes please let me know. It was a lot of games to check so something might've slipped by me. Otherwise let's all have an excellent year folks. Perhaps Marshall's N64 HDMI circuit will be ready soon?
November 28 2014
If you've been considering purchasing an Everdrive 64 or any other Everdrive product then today is the day to do it! Retrogate is having a 20% off sale and it won't last long. Check out their website here.
November 7 2014
We are once again back to updating the Everdrive page. There's just always so much to say about the device and lots of new stuff is being found or created all the time. The Everdrive 64 guide is now completely up to date, for now at least. Something a bit news worthy is that Everdrive 64 Version 2.0 has been discontinued and replaced with Everdrive 64 Version 2.5. They are still pretty well the same thing, just a different looking board and the Version 2.5 doesn't have an option to add a USB port. Most 2.0 owners never bothered with the USB as is so it's no major loss there. One minor mistake I made was originally saying in the guide that 2.0 would never be discontinued. I still don't think it's anything major though as the 2.0 and 2.5 are almost the same thing and no one is really going to be affected by this. Still though the guide has been corrected and I added a note saying that whenever I refer to Everdrive 2.0 it also means 2.5.
We do have one new but also Everdrive related thing to add to the website. If you own an Everdrive 64 and a Transfer Pak then you can dump your Gameboy and Gameboy Color games. It's pretty damn neat and the entire guide on how to do it is right here. Don't worry it's really easy to do. Have a happy November everyone. If I'm not mistaken this is usually the best month for new game releases. (January being the worst.)
October 15 2014
We are finally up to date with the Everdrive 64. Although I did originally update the page only a month ago, right after that the new Everdrive 3.0 and the new OS 2.05 were released so the page had to be updated again. I don't mind so much though. I really like all the new improvements Krikzz made this time and I enjoyed documenting them all. The updated page can be viewed here.
For anyone who hasn't heard yet, it's now possible to play the Japanese game Dezaemon 3D with its unreleased N64DD Expansion using your Everdrive 64 and no N64DD system is necessary. Sounds interesting right? Well you can check out the official page on it and get the download here.
October 8 2014
Hello friend, yes this is not the Everdrive update but trust me it's on the way. Yes I know it's the most viewed page on this website and I should keep it up to date, I know. Today is not a write-off though, we now have a Nintendo 64 Rarity Guide written by some great people from the Micro-64 Facebook group. What's that you haven't joined our Facebook group yet? Well what the hell are you waiting for? Also the N64 in TV & Movies page has received another minor update. Joining the list this time is the film Dude, Where's my Car? as well as an episode from the third season of the TV show Community. Both of these I watched and enjoyed which was really nice. Everdrive is truly next so don't worry. Everyone take care and have a fun and safe Thanksgiving weekend.
September 26 2014
Just letting everyone know that Everdrive 64 Version 3.0 has been released, as well as OS update 2.05. More information will be coming as I will get the Everdrive page completely up to date. I did update it just recently but I will go through it again.
August 31 2014
My good friend has written a nice little review of the OOT 3DS game. You can view said page right here.
August 20 2014
Hello everyone, I have a new page for you today and it's about WWF No Mercy Version 1.1. You can find it here. This is just the one new page I'm adding today, but I'll be doing a bit of minor work here or there both today and tomorrow. I am aware that GoldenEye was recently featured on The Tonight Show Starring Jimmy Fallon and I will get that added to the N64 in TV & Movies page very soon. I also got some e-mails from awesome people and need to do a bit of updating, but sadly I put it off too long. I'm sorry to those people! Lastly, Micro-64 received 5500 visitors on August 12. That's insane and significantly higher than what we usually get. I honestly have no idea where these people came from though, I assume some major website posted a link here. It will be a mystery. Now let's try to get at least one more update in before the end of August.
July 1 2014
Most sources online point to the N64 as a failure in several areas, we at Micro-64 understand this as well. In light of this, we are allowing another non-N64 console onto the site for an individual article, the Virtual Boy. This experimental and woefully unfinished console was ridiculed after launch and has remained an icon of failure in the Nintendo collective ever since. These waves of failure echo greatly within the N64 as well, which was released only a year later. You can find our review of the Virtual Boy here.
June 11 2014
I finally got around to doing a few updates I've been putting off. First, a few new patches were added. Those are Petrie's Challenge, Battletanx Trainer, and Banjo-Kazooie Blue moon Forest. The other update was to the Everdrive article. Added some information here and there, most noteworthy would be the bit about save types.
June 4 2014
The wonderful Team Carrot strikes again with their first new ROM release of 2014! This ROM is the PAL version of Indiana Jones & the Infernal Machine. Originally this game saw a very limited release in the NTSC format and the PAL release was completely cancelled. This all changes now though.
Title: Indiana Jones and the Infernal Machine - Unreleased PAL
Date: 04/06/2014
Company: LucasArts
Area: Europe
System: Nintendo 64
Size: 256 MBITs
Supplier: Gilgamesh
Click here to download.
May 21 2014
I was still in the mood for some Nintendo 64 homebrew so I made a page about another game called Shufflepuck 64. Click here to see it.
May 17 2014
Dexanoid R1 is a Nintendo 64 homebrew release that not many people seem to have heard of. We've written up a nice page about the game that will hopefully give it some attention it deserves. This game is definitely worth checking out and you can find all the information about it in today's new article. Click here to read all about it.
May 7 2014
Good news everyone! We have a new article that has been added to the roulette of features. Have you ever wanted to backup your N64 saves, share your custom tracks and characters with friends online or MOVE MOUNTAINS?? You can do all this and more with the DexDrive! Check out our article about this wonderful memory card adapter here

That's not all we have to announce today either, we have added a new page to the Database! This page categorizes the N64 library by what method it uses to save progress. There's a lot more than you might know. This page is very useful to anyone who has a DexDrive. You can find this page here
April 14 2014
Zelda fans, there's a somewhat new OOT hack for your Everdrive 64! I say somewhat new because it's been out for a month now, ooops. This new hack is known as "Petrie's Challenge" and it currently has 3 levels that are playable. You start out in the Forest Temple, then move to the Fire Temple, followed by the Water Temple. All temples have been completely changed. They play completely out of order to what you're used to and they're also much harder now. A video with the download link to the demo can be found here.
April 12 2014
Two new banners have been added to the rotation. Man, we sure do have a lot of them now. As usual I'm not telling you which two they are, but you'll see them on Micro-64 sooner or later. Or posibly even right now.
April 3rd 2014
Most people don't know it, but being the hero of time isn't all it's cracked up to be. Even the greatest heroes of Hyrule need something to keep their strength up. After many battles fought for this research, we here at Micro-64 have obtained ancient scrolls detailing a recipe to transform traditional Lon Lon Milk into an energy rich ice cream! Check out our article all about it here
Old updates can be found here.